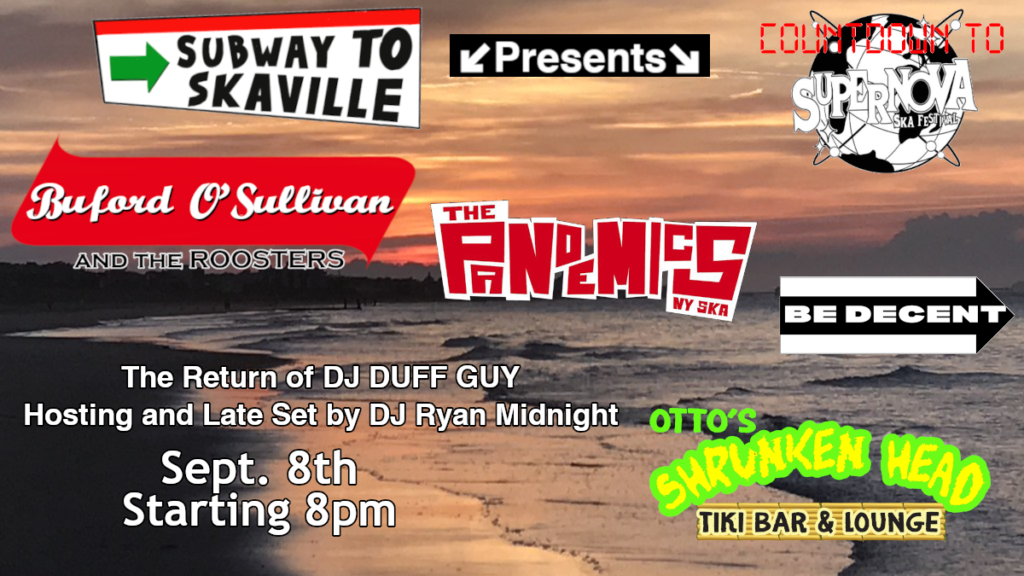 Its the unofficial (but sanctioned!) Countdown to Supernova 2023 show! We're just a week out from Supernova and I wanted to give everyone a fantastic hype up event!
Returning to the stage is Buford O'Sullivan and the Roosters (featuring members of The Scofflaws, The Toasters, The Bluebeats and The Skatalites) as they continue promoting their vinyl release from Jump Up Records! Hear new tunes and old!
Also returning are our good friends The Pandemics! Come see our master Tetris skills as we fit an eight-member band into our intimate space.
We also have the full-length debut performance of Be Decent, Jimmy Doyle's new band. Come find out what he's been working on, and see the battle of "best dressed", especially if Checkerboard Phil comes.
DJ Duff Guy also returns to the decks after his summer off. I know he's itching to spin you some fantastic tunes!
Your DJ Ryan Midnight as always will be hosting and and serving the late night set.
Live bands play from 9pm to midnight sharp!
DJ sets start at 8pm, and go non-stop up front till we all collapse at 2am!
No cover, as always, but please bring cash (or Venmo) to tip each band you see!
Date/Time
Date(s) - 09/08/2023 - 09/09/2023
8:00 pm - 2:00 am

Location
Ottos Shrunken Head

Categories