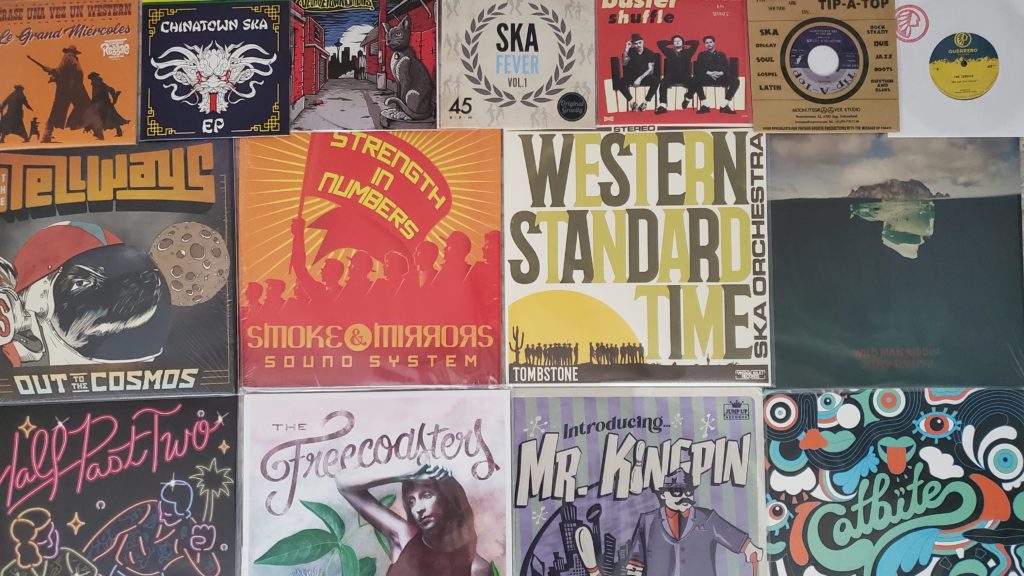 This week on 100% Ska, our first episode of 2022, we take a look back at some of the amazing new music released on vinyl in 2021, including fantastic albums (primarily released from US-based bands) and a host of singles released from around the world including several newer imprints proudly carrying forth the ska banner.
You'll hear releases from Jump Up Records, Bad Time Records, and smaller (but no less important) labels like Mixed Tape Records, Guerrero Records, El Paso Records and Canana Records!
Let's find out what 2021 had for ska enthusiast!
Podcast: Play in new window | Download | Embed
Subscribe: Apple Podcasts | Google Podcasts | iHeartRadio | Stitcher | Blubrry | Podchaser | Email | TuneIn | RSS
Next week we'll take a look at some of the 2021 vinyl re-issues and older new additions to the 100% Ska library acquired last year.
Full Playlist:
Western Standard Time Ska Orchestra – Sunrise in the East
Mr Kingpin – Don't Know Who I Am
Smoke & Mirrors SoundSystem – Nobody Did It
Wild Man Riddim – Northwest
The Freecoasters – Magnolia
Catbite – Asinine Aesthetic
Half Past Two – Shine
Bim Skala Bim – Lightning
The Tellways – Space Force
Buster Shuffle – Sucker Punch Blues
Sir Jay and the Skatanauts – Swiss Ska Fever
The 18th Parallel – Stamp n Go
Junior Dell & the D-Lites – Miss Aranivah
Dani Radic with The Slackers – Keep Going
Georgetown Orbits – Hang on Sloopy
Chinatown Ska – Oasis Ska
The Zensies – We Can Still Dance
Le Grand Miercoles – El Hombre De La Melodica
Don't forget to follow DJ Ryan Midnight and the 100% Ska Podcast on Facebook and get your weekly dose of a DJ trying to emulate your favorite old college radio ska show by subscribing to the podcast if you haven't already