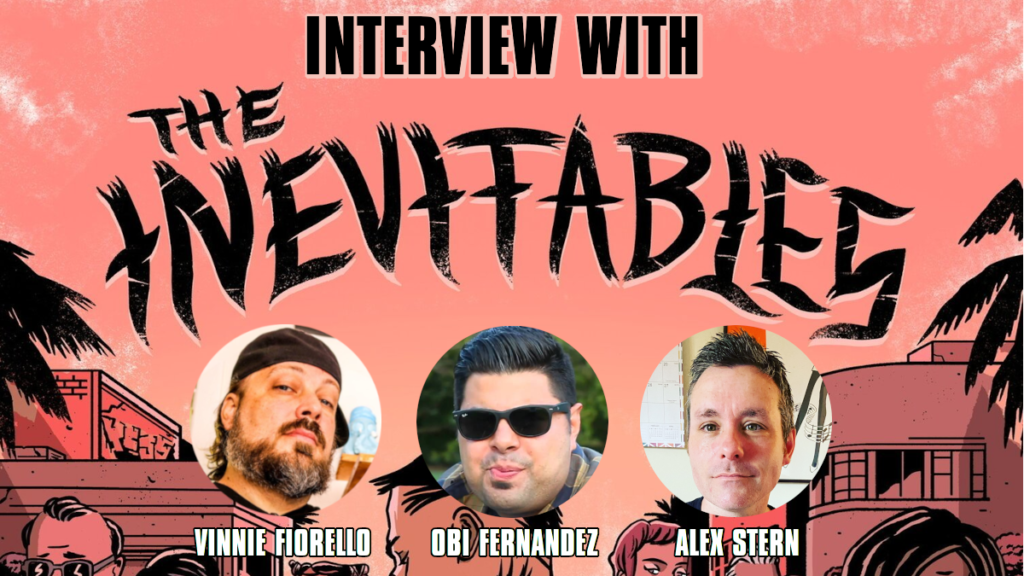 Tonight on 100% Ska we have a massive interview and conversation with the creatives behind the music side of The Inevitables multimedia project – Vinnie Fiorello (formerly of Less Than Jake), Obi Fernandez (Westbound Train), and Alex Stern (Big D and the Kids Table, The Pomps).
During the interview, we get into the genesis of the band, how they collaborate, the comic book side of the project, the continuing expansion of the music through their Versions and Dub EP (which reworks material from their 2020 debut album, LP1), and if we'll ever get a chance to see a live performance of The Inevitables.
Podcast: Play in new window | Download | Embed
Subscribe: Apple Podcasts | Google Podcasts | iHeartRadio | Stitcher | Blubrry | Podchaser | Email | TuneIn | RSS
We also talk with Obi about what we might see coming up from Westbound Train, and Alex on his project, The Pomps.
And of course, we listen to some music from The Inevitables, and tap into rich music library of Vinnie, Obi, and Alex!
The Inevitables can be found across the web including:
The Inevitables homepage (includes links to all their digital music releases)
Merch via We Are Specimens store and Sexy Baby Records
Social media including Facebook and Instagram
Follow DJ Ryan Midnight and the 100% Ska Podcast on Facebook and don't forget to subscribe if you aren't already!
Full Playlist:
The Inevitables – My Father
The Inevitables – The American Me (Version with Roger Rivas)
The Inevitables – Ft Lauterdale (Dub)
Less Than Jake – Johnny Quest Thinks We're Sellouts
Less Than Jake – Gainsville Rock City
Westbound Train – Wash Over Me
Westbound Train – Come and Get It
The Pomps – Resistance Grifter