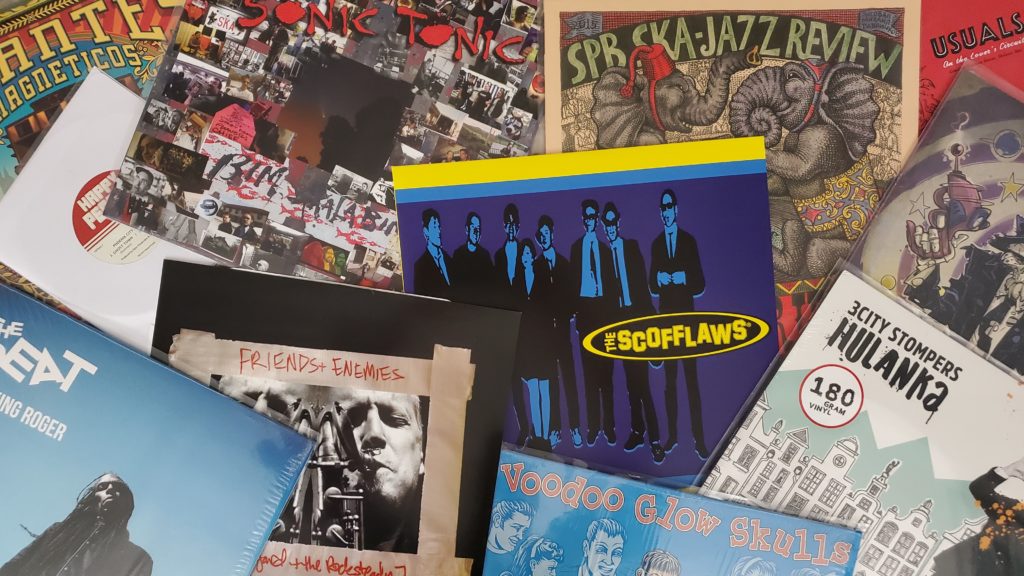 Tonight! We're getting back to a mix of brand new and recent releases after a few weeks of episodes celebrating the 80s and 90s. And tonight's mix features some great tunes coming out of Jump Up Records and Happy People Records amongst others!
First up is the first-time-on-vinyl release of The Scofflaws self-titled record, which can still be yours, along with the brand new album from Bim Skala Bim, and two new 7″ releases from Happy People.
We also have a track off the debut album from Mexico City's Girls Go Ska, available digitally via Bandcamp.
Podcast: Play in new window | Download | Embed
Subscribe: Apple Podcasts | Google Podcasts | iHeartRadio | Stitcher | Blubrry | Podchaser | Email | TuneIn | RSS
Don't forget to follow DJ Ryan Midnight and the 100% Ska Podcast on Facebook and get your weekly dose of a DJ trying to emulate your favorite old college radio ska show by subscribing to the podcast if you haven't already!
Full Playlist:
Girls Go Ska – La Tierra
The Scofflaws – Paul Getty
St Petersburg Ska-Jazz Review – Elephant Riddim
The Impalers – The Return of Jackson
Voodoo Glow Skulls – Left for Dead
Bim Skala Bim – Easy Skankin
Nuclear Device – Coscorron Steady Beat
The Soulsteppers – 'Bout Time
3City Stompers – Skok Na Bank
Phoenix City All-Stars – Ghost Town
Atsushi & the Moisties – The Sound of Ska
David Hillyard and the Rocksteady 7 – Blast Off
Alana Turner – Darling I Will Stay
Mad Conductor – Radio Madness
Open Season – Rocksteady Fever
The Usuals – Salty Coffee
The Beat ft. Ranking Roger – Maniac
Gigantes Magneticos – Hittin' the Beach