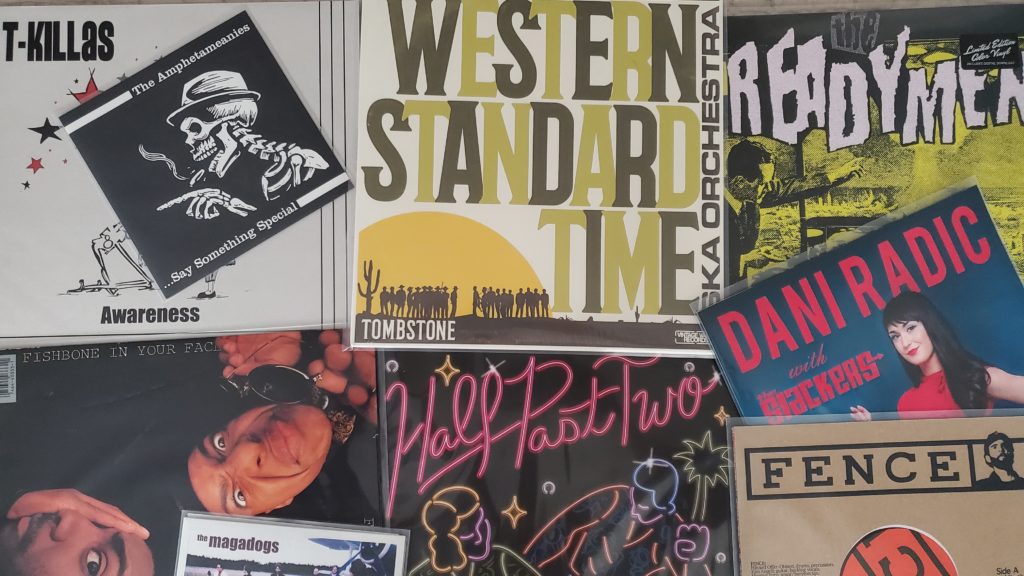 Tonight's episode features a slew of great new releases – both on vinyl and digital – that you are going to need in your collection ASAP, along with a lovely assortment of international ska selection, and a happy birthday to Fishbone's In Your Face!
December 3rd is also Bandcamp Friday, so if you've got some music in your shopping cart, now is the time to pull the trigger, as Bandcamp waives their fees.
Our new album release spotlight focuses on Western Standard Time Ska Orchestra, with their album Tombstone (available direct from the band), Dani Radic w/ the Slackers (on Jump Up Records) and Half Past Two's self-titled album (available on Pay Attention Records via Jump Up)
On the Bandcamp side, check out Ensamble Calavera and Rebelation, (look for other bands you love too!), Kultura Infame on Apple Music, and the Prizefighters on the Viva! The Freedom Songs Benefit Comp.
Podcast: Play in new window | Download | Embed
Subscribe: Apple Podcasts | Google Podcasts | iHeartRadio | Stitcher | Blubrry | Podchaser | Email | TuneIn | RSS
If you are local to NYC, come out to our Holiday Ska Party on December 17th at Otto's Shrunken Head!
Full Playlist:
Fishbone – A Selection
Ensamble Calavera – Ska Playing Loud
Rebelation – Minor Incident
Kultura Infame – Amar Sin Olvido (featuring Maria Blues)
The Prizefighters – Joe Hill
Dani Radic w/ Slackers – Let Me Be
Western Standard Time Ska Orchestra- Grey Ghost
Cosmic Shuffling – Eastern Ska
Black Cat Zoot – No Swinging in Your Walking
Half Past Two – Top Gun
The Readymen – Headline News
Fence – Scorched Earth
The Amphetameanies – Say Something Special
The Upsessions – Margharita
The Magadogs – Come On (Extended Version)
T-Killas – Running
Potato 5 – Dial M for Murder
Richard Ace – Stayin Alive
Don't forget to follow DJ Ryan Midnight and the 100% Ska Podcast on Facebook and get your weekly dose of a DJ trying to emulate your favorite old college radio ska show by subscribing to the podcast if you haven't already!