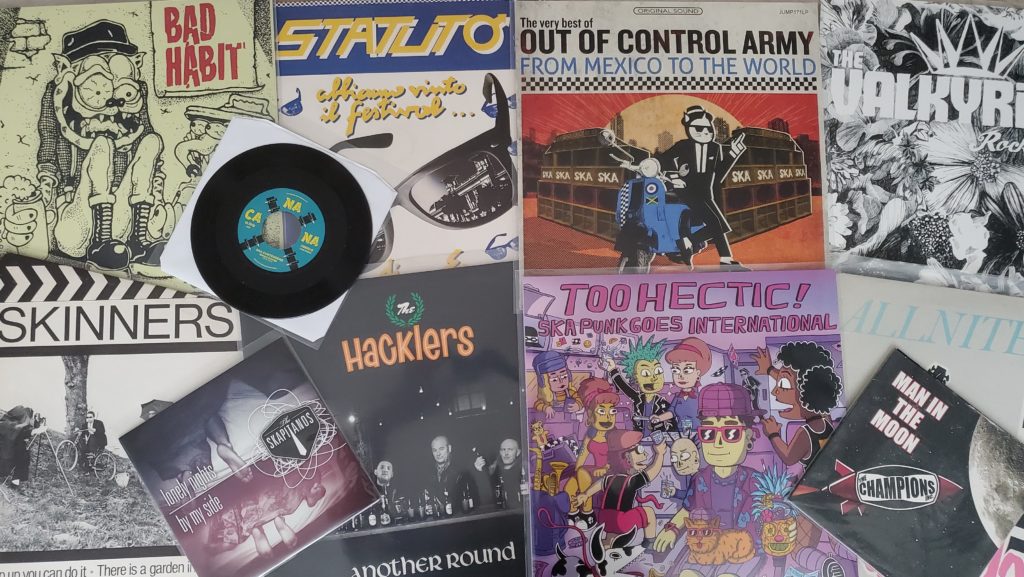 Tonight we take another trip on S-K-Airlines for trip around the world (and even back in time) to highlight some of great international ska acts from today and yesteryear!
We start off with tracks from two brand new releases – the Too Hectic! Ska Punk Goes International compilation and the Best of Out of Control Army – which are both available via Jump Up Records.
From Mexico, we'll take a meandering stroll to Hungary, Germany, and Ireland just to name a few of our stops, and of course we'll make a pitstop to refuel in the good ol' USA.
Podcast: Play in new window | Download | Embed
Subscribe: Apple Podcasts | Google Podcasts | iHeartRadio | Stitcher | Blubrry | Podchaser | Email | TuneIn | RSS
We'll also hit you with a few upcoming shows on the concert calendar! Next week, watch for our final Bandcamp Friday preview episode!
Full Playlist:
Los Kung Fu Monkeys – Bang Bang
Out of Control Army – Cat Nation
Bad Habit – Stop the Power
The Hacklers – Rude Bhoy
The Skapitanos – Lonely Nights
Skinners – Jump Up You Can Do It
Statuto – Abbiamo Vinto Il Festival de Sanremo
The Valkyrians – Call Me After Midnight
The Belle Stars – Hiawatha
Save Ferris – Golden Silence
Bowcat – Cruising Speed
Regatta 69 – Someone to Cling
Blades – Beef Bowl
The Champions Inc – Are You Reggae Now?
The Allniters – Hold On
Ska Contenders – Siempre Conmigo
Cairo – I Like Bluebeat
Madness – Return of the Las Palmas 7
Local or visiting NYC? Check out the upcoming shows hosted by (or featuring) DJ Ryan Midnight:
5/27 – Stop the Presses, Flying Racoon Suit, Stuck Lucky, Megawave (host and DJ)
6/17 – The Freecoasters, Beat Brigade, Donut City (host and DJ)
7/15 – Dunia & Aram, +TBA (host and DJ)
7/23 – Ensamble Calavera, Not From Concentrate, +TBA (host and DJ)
Like, Subscribe, and all that Jazz!
Follow DJ Ryan Midnight and the 100% Ska Podcast on Facebook and get your weekly dose of a DJ trying to emulate your favorite old college radio ska show by subscribing to the podcast if you haven't already!